2013 Awards Season! Vegas Edition
The Oscars, Golden Globes, Emmys, Grammys and, of course, the Vegas Trippies. It is awards season and Vegas awards are no exception. The people's choice awards for Las Vegas go through VegasTripping.com where readers and Vegas fans vote, each year, on the best and worst of Vegas.  As opposed to critics, writers or columnists awards, the "trippies" are truly the people's choice awards. Before I comment on some of the Vegas Tripping award winners, I'd like to offer some unique awards of my own.
The Second Annual Veni Vidi Vegas Awards
Best Place to Buy Drinks and Snacks, Walgreens- Most seasoned Vegas tourists know the little tricks to save a few bucks like buying show tickets from Tix 4 Tonight, what the best mode of transportation is to navigate the strip and to avoid resort shops and mini-bars for drinks, snacks and amenities. The strip is littered with several CVS, Walgreens, ABC and souvenir/convenience stores and where you stay certainly dictates where you may load up on Smart Waters, Funyuns, Bud Lights and Dentyne Ice. Personally, I like the 7/11 on the north end of the strip beyond the Encore towards the Riviera where you can fill a slushee cup with Pina Collada and pour in some Captain to make the least expensive fruity drink on the strip. However, the most convenient stop on the strip may be the two floor Walgreens connected to Planet Hollywood. I'm just a sucker for working escalators which seems to be a commodity in Vegas. My favorite part of this Walgreens is the "Welcome to Las Vegas" sign painted near the escalator.
Vegas Commercials-
Best- Last Vegas
Worst- Fit Right In
Between Vegas commercials featuring Las Vegas and resorts, casinos, airlines and tourism companies promoting Sin City, you can find a number of short and entertaining Vegas themed commercials. Similar to TV shows, movies and music videos that use Vegas as a backdrop to either market a product or a trip to Vegas, my eyes open pretty wide when I see shots of the Bellagio, Strip, etc… flash on the screen. Lasvegas.com posted a number of commercials on their youtube channel here http://www.youtube.com/user/lasvegas which are quite entertaining.  I'll admit that I really enjoy the Ciroc commercial http://www.youtube.com/watch?v=cn88icJ2z2c  but it glosses over its use of Vegas and who can believe for a second that this ragtag group would actually party in Vegas together?
Best- This year's best Vegas commercial has to be the entire movie, Last Vegas, which works like a two-hour Aria commercial. Aria's casino, wedding chapel, Haze nightclub, pool and especially the villa become a supporting character in the movie. I have to imagine that MGM Resorts paid quite a bit for this.
Last Vegas trailer- http://www.youtube.com/watch?v=IMnr-R7BkkU
My Last Vegas review- https://venividivegas.net/2013/11/09/last-vegas-movie-review-vanilla-vegas/
Worst- The Cosmopolitan's "Misfit Right In" which makes no sense and does a poor job marketing the property. https://venividivegas.net/2014/01/14/just-a-misfit-ranting-about-the-cosmopolitan/
Most Annoying Vegas Tourists, Tour Groups–My wife deserves a lot of credit for this pick. The nominees including the annoying women celebrating a bride to-be with their matching shirts, sashes and tiaras and the obnoxious guys on a bachelor party attempting to relive The Hangover and every other random Vegas stereotype they've seen their entire lives. Both of these groups can be confused with new twenty-one year olds celebrating a birthday and traipsing around the strip plastered, loud and cheap. Speaking of plastered, the club rats and doucebags standing in line at Hakkassan and Pure made our list. They are far less annoying going into the club than the barefoot and stumbling zombies coming out. Prior to talking to my wife, I would have selected families with babies in strollers navigating their way down the strip, through the Bellagio and trucking between slot machines in smoky casinos at 3am. But, my wife, nailed it. Nothing…and I mean nothing…is more annoying than the large, tourist groups waving brightly colored flags and light sabers to signal the gathering of their groups. They are everywhere and they encompass everything that is annoying about tourists. Few may be drunk and obnoxious but they are the slowest of the slow walkers as they use their ipads (the new fanny pack) to scan across every inch of the strip to take pictures and videos. Traveling in packs, they also push strollers, all get in lines for drinks and coffee at the same time and are barely aware of anyone or anything outside of their group. If you see them starting their tour of the Bellagio Conservatory, Forum Shops, Bellagio Fountains or the Grand Canal Shoppes, walk the other way and avoid them.
Best Celebrity, Floyd Mayweather- Last year, I went with Chumlee. This year, I'm choosing Floyd "Money" Mayweather because of a conversation I had with a server and host at D.vino restaurant in Monte Carlo. I was impressed by Floyd's connection to the community. According to these two college students, everyone in Vegas has met Floyd at one point or another and he is incredibly kind and generous. Sure, he also doesn't pay his taxes, places ridiculous superbowl bets and runs his mouth constantly but he should also be synonymous with Vegas glitz, glam and gluttony. He is the best pound-for-pound boxer in the world, brings in major dollars to the strip with each of his fights and is quietly charitable to his community.
Best Street Character, The Real Robert Deniro- Some people hate the street characters. They crack me up! I don't enjoy when they have bad attitudes but when they stay in character and just act as additional strip decoration, I find them entertaining. At this year's VIMFP, I ran into "The Real" Robert Deniro outside of The D. Dude is funny.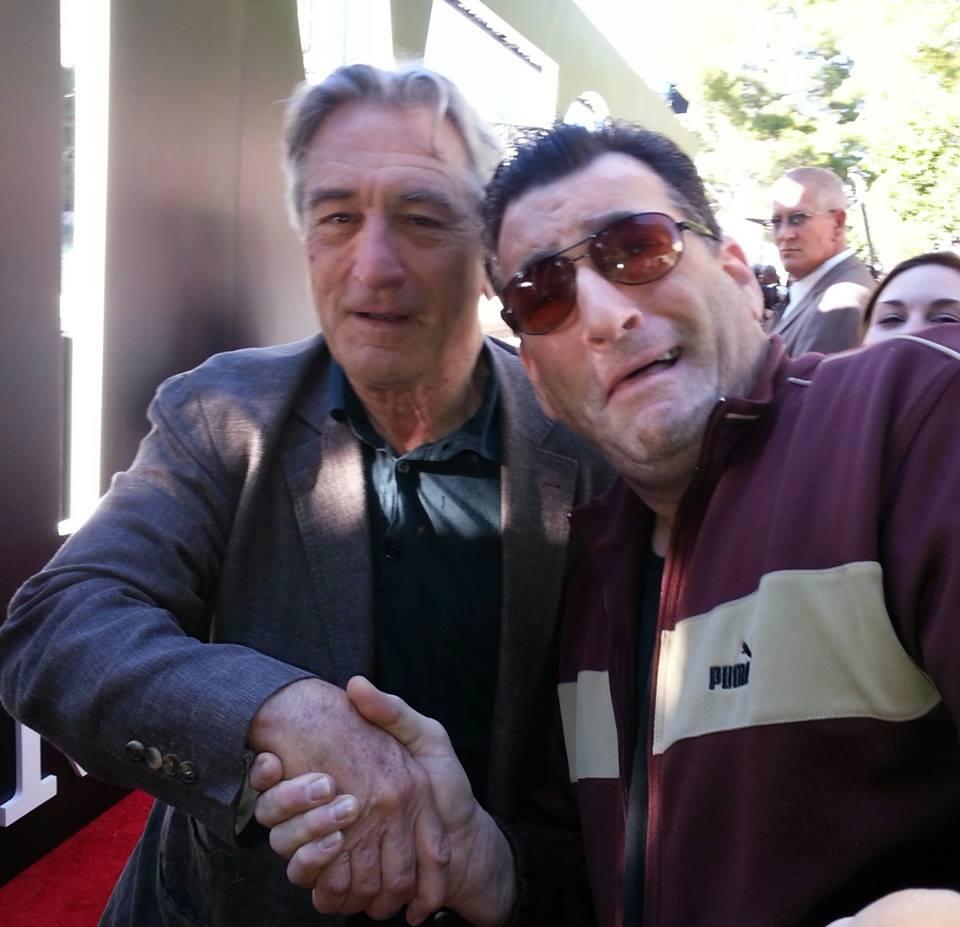 The Trippies
Now that I've provided some of my own awards, here are my thoughts on some of the trippie awards…
Best in Show The D– The D did incredibly well this year. Without question, The D received a significant bump in voting because the resort hosted the Vegas Internet Mafia Family Picnic. I'm sure that many of the awards were well-deserved but after spending a few days at The D, I don't believe that it truly represents the Best in Show. When taking into consideration restaurants, casino, atmosphere,  bars, etc… I believe that The D is certainly the best downtown but I can't believe that it can compete with the overall excellence of The Bellagio, Aria and most of the mega resorts on the strip. It definitely has the best video poker, slots and service but I still believe that Aria is the best resort in Vegas.
Best Burger, Binions (readers)/Andiamo (editor)- No way. Mandalay Bay's Burger Bar still has the best burger in Vegas. Gordon Ramsey's BurGR is great but Burger Bar is still the best burger as well as burger/shake/fries combo.
Person of the Year, Derek Stevens (readers)/David Schwartz(editor)- While both are deserving and I've had an opportunity to meet both individuals, Derek Stevens deserves this award. I can't think of one other "inn keeper" that frequents the bar with his patrons, talks to his employees and takes such a hands on approach. He is likeable, accessible and grounded. What set him apart from others is what his employees said. In speaking with the cashier in the convenience store amongst others, the employees speak highly of him and, more importantly, their attitudes while at work reflect the culture that Derek has built.
Best Act, Absinthe- I could not agree with this more. One of the best experiences I've had in Vegas. Here is my review- https://venividivegas.net/2013/08/12/the-chubby-white-guy-rides-again-a-review-of-absinthe/
Best App, MyVegas- The readers got this wrong. It is Vegasmate. What a disaster by the readers.
Note- I considered a celebrity someone who has mass appeal. Person of the year is the individual that has helped the city advance or prosper.